Getting ready for our Flower Girl Dress of the Year for 2012
The anticipation is growing for Pegeen's announcement of our Wedding of the Year.  In addition to our yearly announcement, the wedding will kick off a year long celebration of our wedding of the year.  The weddings below will be featured in our new commercials appearing on various women's wedding programming…. and at the end of 2012, a very special wedding will be occurring and we will choose up to 12 little girls to be in a very special wedding at Disney.  Watch for the coming announcements.
About 5 years ago, as digital cameras improved, we started getting BEAUTIFUL photographs from our customers.  One in particular really stood out, so we named it our First Wedding of the Year and the Flower Girl Dress of the Year.   It came at a time when Tiffany Blue was really big in weddings and we couldn't produce them fast enough.
The following year, we named our favorite pink and white flower girl dresses of the year and it was lovely.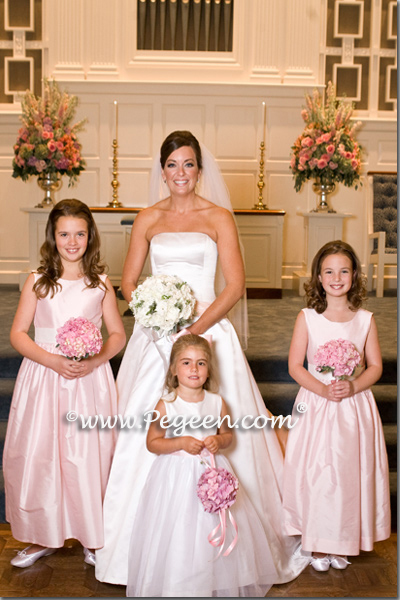 Pink and White Flower Girl Dress of the Year by Pegeen.com
Then we announced a lovely Christmas Themed Wedding of the Year with her flower girl dresses in Red and Gold.
This year, our favorite Wedding of the Year was a gorgeous pink and bisque silk held at the St. Regis in Dana Point.  Wedding Planner was David Tutera and the execution of the wedding was absolutely stunning.  The Flower Girl Dress of the Year was pink and creme layers of tulle and the color of the silk was a beautiful peony pink.